UnchartedX Egypt Tour Exposed
Ben UnchartedX runs a YouTube channel featuring ancient history and technology. About once a year he runs a tour of Egyptian sites. Today we will review, and unpack the highlights from the UnchartedX Egypt Tour run by Ben van Kerkwyk from UnchartedX and Yousef from the Khemit School in October 2021. The tour after ours is the UnchartedX Egypt Tour 2022 in November.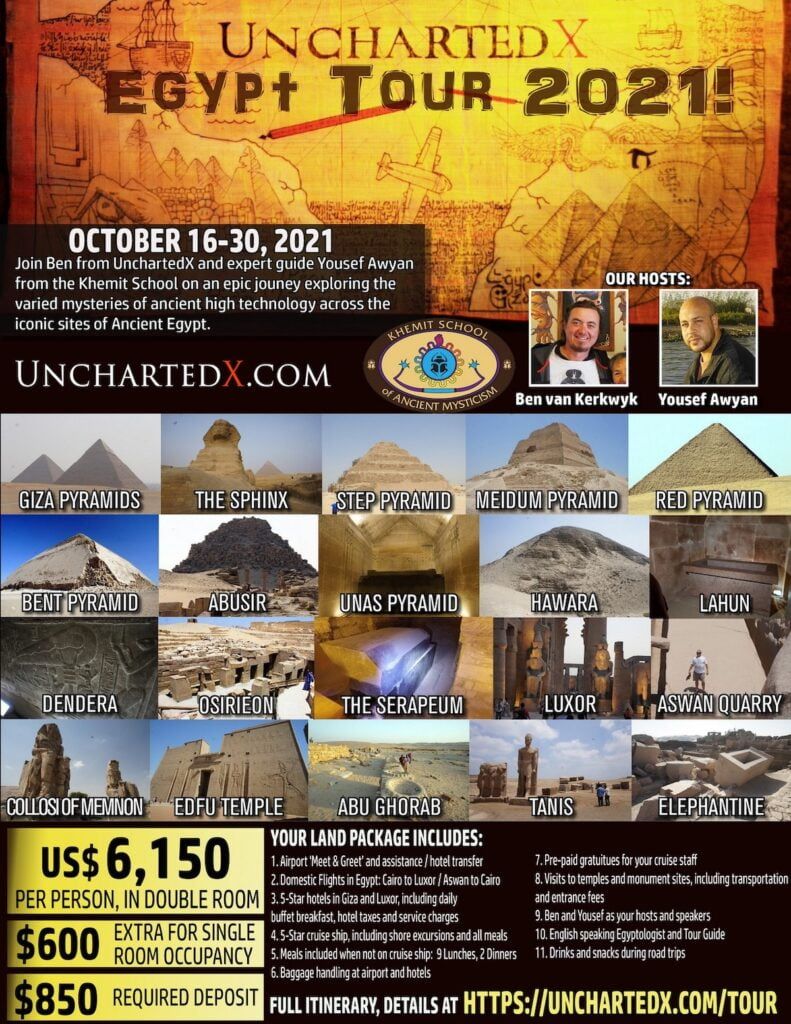 Why go to Egypt?
I was originally planning to go to my life-long dream site Machu Picchu, Peru after they reopened, but they kept shutting down areas and adding restrictions. I stumbled across one of Ben's YouTube videos in October 2021 where he mentioned that due to cancellations, there were openings on his upcoming UnchartedX Egypt tour. That was ten days before I'd have to leave.
I was always curious about the pyramids, but it never crossed my mind that I would ever have a chance to go there. After a few days, I bought a refundable ticket on Qatar Airways to fly to Egypt while I decided if I really wanted to go. That left seven days to go.

After a mad crunch to plan for the trip and buy a bunch of stuff from Amazon, I tried paying for the tour with four days to go. Citibank kept rejecting the charge, saying they fixed it two times and blaming the merchant once. It never worked, and with three days to go I had to use Wells Fargo and lose out on some reward points. That worked fine on one try.
Who goes on these Egypt tours?
The purpose of this tour was to see evidence of ancient advanced technology. To see the known construction method of the dynastic Egyptians, and compare it with the unwieldy large, multi-ton, megalithic stone construction. Did the Egyptians really build the pyramids or did they inherit them from a prior civilization?
You can thank the YouTube algorithm for feeding these alternative history videos to the vulnerable. Then flooding them with complementary channels for confirmation bias. This may explain why there were 30 guys on the tour and 4 wives who got tricked into coming along.

There's a fascinating TED talk by Graham Hancock on ancient history that got me started down this rabbit hole. Then came Jimmy at Bright Insight, Brien Foerster at HiddenIncaTours, and more recently Ben from UnchartedX.
After consuming hours and hours of videos, I wanted more. This is the result.
Flight from San Francisco to Egypt
Getting from San Francisco, CA to Cairo was a journey in itself. 15 hours to get to Doha, Qatar for a 12 hour layover, then another 3.5 hours to get to Cairo. About 30.5 hours just to get to the start of the tour.
UnchartedX Egypt Tour Part 1
There's a lot to cover on this trip so it's broken up into four parts. This is part one.
Right away we hit some large pyramids and stooped / climbed into the inner chambers. Then after a stop at the museum, we flew to Luxor to see the sights there.
UnchartedX Egypt Tour Part 2
The next part of the UnchartedX tour took us on a Nile Cruise for four days. We stopped at a couple ports along the way to see some temples.
UnchartedX Egypt Tour Part 3
From Aswan, we flew back to Cairo to tour more nearby sites.
UnchartedX Egypt Tour Part 4
They saved the best for last, the Giza plateau and the three famous pyramids: Mo, Larry, and Curly. There was an optional one day tour extension to go to Tanis, which was well worth it.

UnchartedX Egypt Tour Bonus
Other shots of Egypt and the trip home just for completeness. Feel free to skip, lol.
UnchartedX Egypt Tour Review
After seeing Ben's videos on the pyramids and ancient technology, I knew I had to check it out for myself. While I like to plan my own trips, Egypt is complex and some sites are by permit only.It's also a refreshing change and relief to have someone else worry about the transportation, tickets, meals, and handle all the unexpected problems that come up.
With Ben's tour, being in the company of like-minded individuals is a plus. We all passionately want to experience the same things and it was fun to share finds and observations with each other.
It's one thing to watch videos. It's another to experience in person: to gaze at massive pyramids, crawl passageways, feel the vibrational resonance, and touch the ridges of tubular drill holes. Truly amazing.
Ben and his Egypt crew are well organized and come with security, water, snacks, and medicine. They make sure you see the good stuff – things you might miss on your own, and they explain the story behind what you are seeing.

it was a refreshing change to have someone else worry about the transportation, tickets, meals, and handle all the unexpected problems that come up.
YouTuber Bonus: After the trip, you can check out Ben's videos of the tour to relive the experience and catch occasional glimpses of yourself in them.
Ben's team delivered the once-in-a-lifetime experience I was seeking in Egypt. Highly recommended, and am hoping to get in on the Peru tour when it opens up.
Thanks Ben!
Khemit School Review, Yousef Awyan Review
Most Egyptian guides simply regurgitate what you can read in books – it's boring and something you can do on your own. Yousef Awyan is a master stone mason and offers the perspective of someone with hands-on knowledge. It's practical insights that you won't find in the library. Yousef is the second generation of Khemitology with many interesting stories from growing up in the shadows of the great pyramids.
To see the Egyptian statues and temples is amazing in itself, but to have Yousef fill in the how and why things were carved and shaped, and their meanings add another dimension. Even during the down times when most would just rest, Yousef brings out his Egyptian flute to entertain and add to the ambience.
Yousef's passion is insane. We went to the Luxor museum, and he's been there many times before, but there he is studying the artifacts and taking photos like a tourist. He says he learns something new every time. What guide does this?
Suffice to say, Yousef from Khemitology Tours is the best guide to have on your Egypt tour.
Mo Taha, our tour coordinator, is a master organizer, planner, and expediter that makes sure everyone on the tour has a great time. He's also the medic, pharmacist, and currency exchange, too. Our tour was amazing and the flights, hotels, river cruise, tickets all went smoothly.
UnchartedX Egypt Tour Epilogue
This was a trip of a lifetime for me, and this UnchartedX Egypt Tour was definitely worth it. If you've been thinking about a trip to Egypt, I highly recommend you go for it.
What's next? Hopefully Machu Picchu opens up fully soon. I'm also interested in seeing Gobekli Tepe and Derinkuyu in Turkey. I'm also wanting to touch the KT Boundary in Gubbio, Italy – This is why humans exist today.
If you're heading to or are thinking about Egypt or have any questions, reach out to me.
Now, if you are serious about going to Egypt check out these Egypt Tour Tips and Tricks
Finally, I'll leave you with this gem. It's an amazing, well-organized, and well-presented overview by Ben UnchartedX on the evidence to rewrite the great story of human history.
Thanks for staying until the end. Let us know your thoughts and questions in the comment section below.