Al Safwa First Lounge Review: Exquisite
Fri, Oct 15: Doha, Qatar
The Qatar Airways Al Safwa First Lounge at the Doha Airport is a luxurious place to relax for your layover. It's connected to the shopping area of the airport. Head up the escalator to the Al Safwa Lounge on Level 3 and you are transported to a cavernous space. The ceilings are 3 to 4 stories tall. It's a spacious and quiet oasis that is well worth the visit.
While I was flying in Business Class and was excited to see the Al Mourjan Business Lounge, they refused my entry and sent me to Al Safwa. That was confusing and I never heard of Al Safwa, and thought they were sending me to some other airline's lounge. But, it worked out in the end.
How To Get Access to Al Safwa Lounge
The Al Safwa First Lounge access is determined by the outbound class of your next Qatar Airways flight. In my case, because there is not Business Class between Doha and Cairo, I was ticketed in First Class. Thus, I got to hang out at Qatar Airways Al Safwa First Lounge. A sweet surprise.
The corollary unfortunately is that for the return flights the outbound would be Business Class to SFO. This means I wouldn't have access to Al Safwa First. It's okay though, the Al Mourjan Business Lounge was quite alright.
There are other ways to get into the lounge, like if you're a Qatar Airways Platinum member… but if you are one, you already know about this.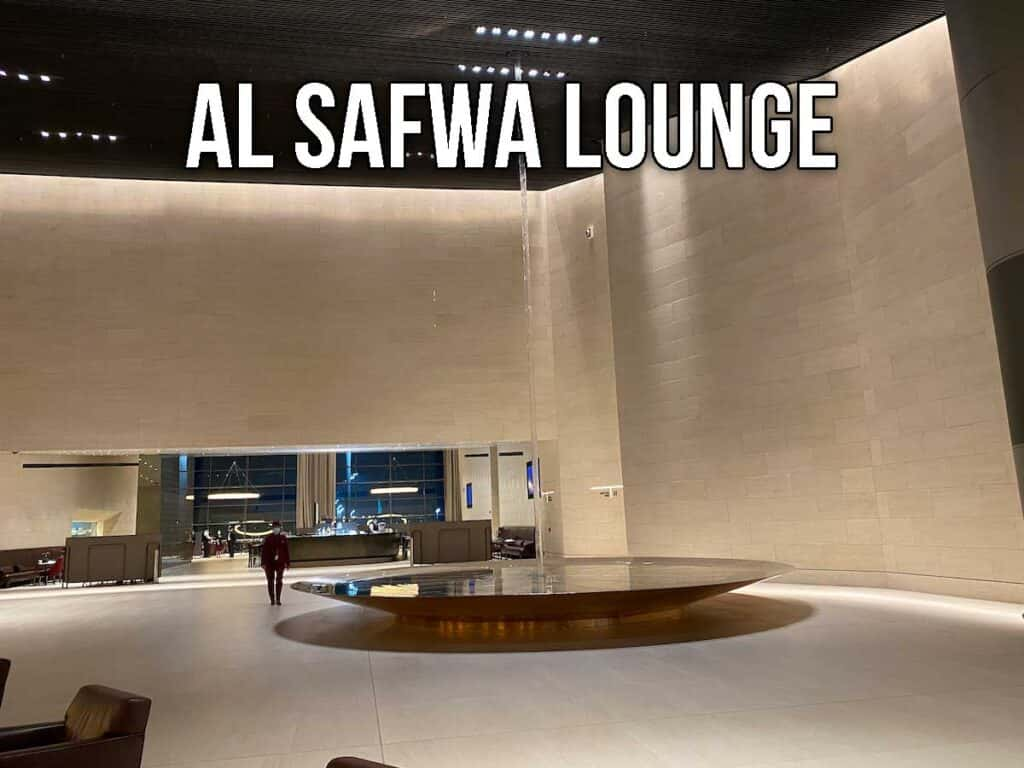 Al Safwa First Lounge Tips and Tricks
The first thing upon arrival into Doha, clearing customs, and entering the shopping area is to get to the lounge. You'll have plenty of time to shop later.

Head down the hallway, away from the fountain to the "Spa / Quiet Area", then ask the person at the counter about getting an Al Safwa Sleeping Room. There are limitations on how long you can have the room, and it is on a first-come, first-served basis. For me, I had to get on a wait-list and came back a couple times to finally get a private room from 2:00AM to 8:00AM.

You can also book any spa services at this time. For me, everything was sold out due to limited staffing. But it was ok, as I went to the Be Relax Spa in the shopping area.

Next, head to the main counter in the the lounge, to get a locker for your luggage. They will give you a card key and you'll be able to come back and access your things directly, anytime you want.

Now you are ready to explore wherever you want.
TIP: Qatar electrical outlets are the same big ones they use in England, an adapter I didn't bring. I couldn't charge anything in the lounge area, but they did have a universal outlet in the bathroom for shavers, and I got by with that.
Al Safwa Street View Tour
Here's the Google Street View of the Al Safwa Lounge starting at the lobby check-in. Get more info at the google Al Safwa First Lounge entry :
You can also check out the official Qatar Airways page on their Doha Al Safwa First Lounge for more information.
Let us know what you think about the Al Safwa First Lounge in the comment section below.
Part of the Ben UnchartedX Egypt Tour