How to Get a Free Business Phone Number
Are you using your personal phone number for your business and are tired getting swamped by spam?

Do you wish you could shut down your business calls at 6 PM, and route them to voicemail?
If you have a small US-based business, gig, or side hustle, it's helpful to have a separate business line to manage your calls and texts. The best way to do this is using Google Voice, and the best part, it's free.
What is Google Voice?
Google Voice is a voice over internet (VOIP) phone service for calling, texting, and voicemail. It is a separate phone number that you can use and pass around instead of your personal phone number. It works over the internet and can be accessed using a Phone App or on a laptop web browser.
Why Use Google Voice for Business?
Once you give out your phone number to another business, or put it out to the public, like on your website or business card, you will be subject to getting significantly more spam and unwanted calls and texts. A separate phone number is best to handle this phone load, and Google Voice is the best place to get it.
Google Voice is free for all outgoing USA calls and texts.
Note: International calling costs money, so if that's something you do frequently you'll need to research further to find the best outgoing phone plan for your case.
Google Voice has the following features to help manage your public phone number:
automatic spam protection from calls and texts – stops a lot of junk at the gate.
route calls to voicemail – on schedule so you can sleep, on demand for do not disturb.
read automatic voicemail transcripts – much faster than having to listen.
screen calls before answering – if you really want to.
blocking unwanted callers – until they get another number to bug you from.
How to Use Google Voice for Business?
Here's a diagram of what we are going to set up: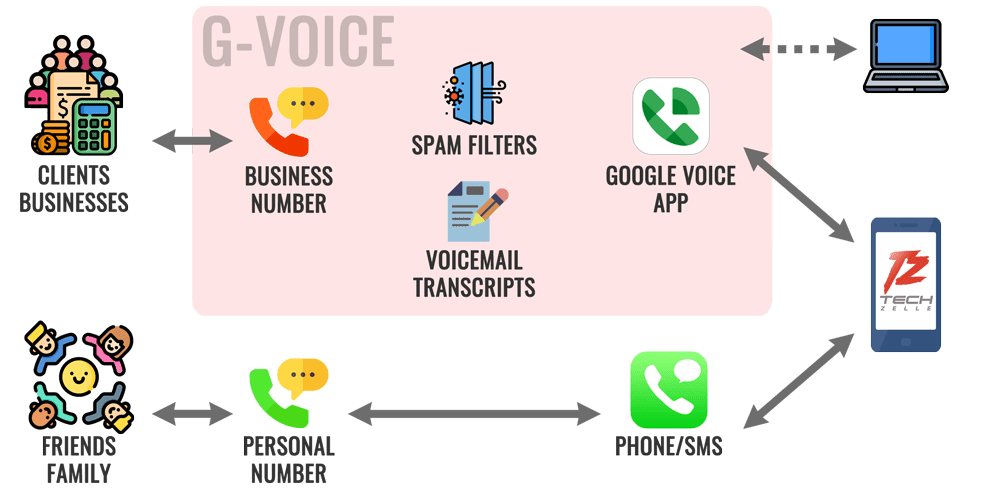 Business Number: give to the public, clients, businesses, shopping sites, stores. Put on your website and business cards.
Calls and text messages are first routed through Spam Filters to block unwanted contact.
The Google Voice App handles the calls and texts using your cellphone data plan, separately from your personal number.
Voicemails are saved, and a transcript is generated.
You can optionally use Google Voice using your laptop and tablet with a web browser.
Personal Number: give this only to friends and family. All your personal calls and text are handled by your cellphone carrier.
How to Get Google Voice
The first question to answer is if this is a new business where you can get a new random phone number? If so, then you can register to get a new business line. Here's some instructions or how to get Google Voice.
Or, is this an existing business where you have already given out your personal phone number to the public? If so, then you can port your phone number to Google Voice and get a new random phone number for your personal line.
How to Get a New Google Voice Number
go to: https://voice.google.com
Sign in to your personal gmail.com Google Account (or register for one)
Select the city or area code for your new phone number.
Pick from the list of random phone numbers – I like numbers that end in 0, or 5, or have interesting patterns like repeating digits, sequential digits.
Follow the rest of the instructions there.
How to Port Your Phone Number to Google Voice
Before porting your existing number, you'll want to get a new SIM with what will become your new personal phone number:
If you have a good reason to stay with your existing cell phone carrier, then get a second line there. Otherwise, we'd suggest taking a closer look at Mint Mobile.
Mint Mobile has the best 5G network coverage through it's service provider, T-Mobile. They include a free mobile hotspot on all plans, and free calls to Mexico and Canada.
Get started with a trial 7-day Mint SIM card at Amazon, or instantly with a Mint Mobile eSIM at their website.

Note: Google charges $20 USD to port your mobile phone number, and not all mobile numbers can be ported.
Google Voice has a web page which contains specific instructions on porting.
How to port your mobile number to Google Voice.
How to Set Up Incoming Calls
Google Voice has two methods to handle incoming calls: Answer in App (uses cell data) or Forward to your personal phone number (uses cell voice).
I recommend you use the App as this keeps things completely separate. You can also control the notifications: sounds, badges, banners, in your phone settings.
The negative is that sometimes, cell data calls have more quality issues compared to cell voice. If that happens to you too often, then consider switching to call forwarding.
Traveling with Google Voice
One of the benefits of having Google Voice is to use it when traveling internationally. Rather than use your cell carrier roaming feature, which is typically expensive, get a local SIM card with a data plan. Now you can use your Google Voice app to make calls/texts home with your cheap data plan. This can also be free, if you're able to get free wi-fi at your destination.