ToursByLocals Ancient Ireland Tour Unpacked
ToursByLocals is the "uber" for private tour guides around the world. Just pick a tour / tour guide and customize to your liking. This is my experience with them for tours around Belfast and Dublin, Ireland.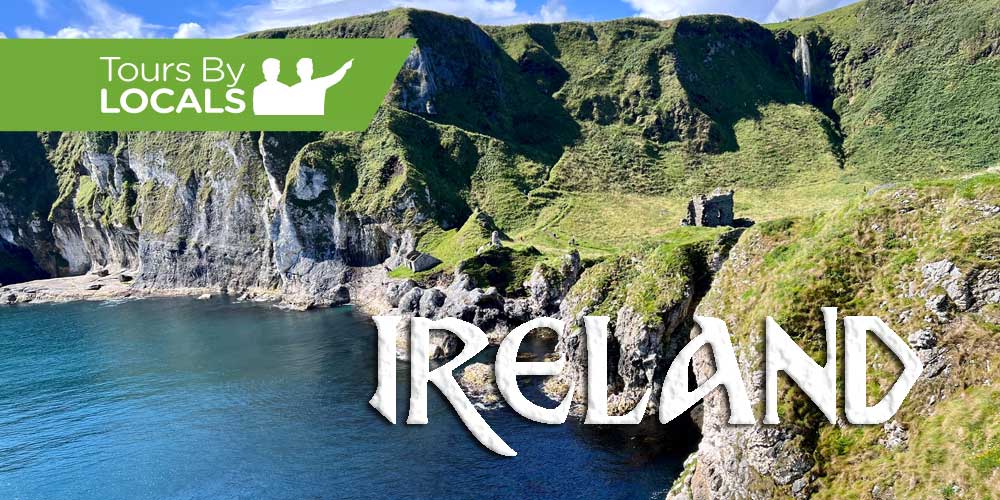 Why choose ToursByLocals?
ToursByLocals connects you with Experienced Guides who are local to the area where you are visiting. In my case, Belfast and Dublin. They are the broker in the transaction to give you some assurance that you won't be scammed, or at least have some recourse. And, since most of the guides will have ratings and reviews from prior clients, you can read up before selecting one.
ToursByLocals Belfast, Northern Ireland Tour
The most important site I wanted to see was the Giant's Causeway, I found Pat on ToursByLocals for a 9 hour tour. I didn't like some places on his posted agenda, so I used ChatGPT to restructure the tour. I prompted for an efficient 9 hour car tour starting in Belfast, including the Giant's Causeway and other ancient stone sites, excluding modern renovated castles.
After several refining passes, I got the tour I wanted, including some lesser known, more run down sites. Just what I wanted.
Grand Central Hotel Belfast blends modern luxury with historical charm in the heart of Belfast City. Prepare for a lot of noise walking past the pubs on a Saturday night.

Bonamargy Friary dates back to the 15th century, and is supposedly haunted by the "Black Nun". I didn't see her, though she may have been out on the town.

Carrick-a-Rede rope bridge links Ireland to the tiny island of Carrickarede. It's been featured in several episodes of the "Game of Thrones" series. Reasonably fun payoff for a long hike to get there.

The Giant's Causeway, in northeast Ireland, with its many hexagon basalt columns. I was expecting actual hexagons not these crude substitutes.

The Titanic Belfast Museum honors the world famous ocean liner in the city that built her. The concept is worthy, the implementation, not so much.

The Peace Wall in Belfast, separates the Catholic neighborhoods from the Protestant ones. Not a great place to walk though.
ToursByLocals Dublin, Ireland Tour
After taking the Enterprise express train from Belfast to Dublin, I was ready to see the local sites. I chose Micheal for the first day, then Kevin for the second. The main change was to add in the Fourknocks tomb, that I wanted to see, partly because it's kept locked and you have do drive to someone's house to get the key.
The Westin Dublin, housed in a former bank building. Very unique rooms on the top floor. Close enough to walk from the train station from Belfast.

Knowth has a large passage tomb and a bunch of smaller satellite mounts. You can't go into any of them, but there are stairs to get to the top of the main mound. Impressive views from there.

The Hill of Slane, the more impressive hill, has decent ruins to explore. There's a statue of St. Patrick there amongst the clovers.

The Hill of Tara has an "interesting" monolith, the Sword of Destiny (Lia Fáil). Much larger area than Slane, will less stones.

Monasterboice is an ancient monastic site having a few giant, high crosses and a tall round tower. Some of the graves are recent, as decendants are permitted to be buried in there.

Mellifont Abbey from the 12th century once housed 400 monks and brothers. There's a unique octagonal building, a lavabo for washing hands before meals.

Malahide Castle dates back to the 12th century. It's huge, so I didn't want to waste time walking through it. We just had some lunch in the commoner cafeteria, Avoca Café.

Trim Castle is a 12th century Norman castle. Open for guided tours through the spiral stone staircases to the roof. The "Braveheart" movie shot scenes here.
ToursByLocals Ancient Ireland Tour Review
After a week on the Megalithomania Ancient England tour, I added another week to visit some ancient sites in Ireland. That included a flight from London to Belfast, the 2+ hour express train to Dublin, and a flight from Dublin to London for the flight home. In retrospect, with better planning, I should have just flown home direct from Dublin. But then again, I did want to check out the Virgin Clubhouse lounge at London Heathrow.
Best site goes to the Giant's Causeway. Very strange to walk on and around those rock columns. Then Kinbane Castle for the amazing rugged terrain with a couple of stone buildings to explore. Then Fourknocks for the opportunity to be amongst those rock carvings in peace.

For the Belfast tour, Pat M. was an excellent driver and guide with a comfortable van. Always great to hear about an area's history from a local. He had not been to Bonamargy Friary nor Kinbane Castle, so thank ChatGPT for making things interesting for the both of us.
Worked well at Giant's Causeway where parking is a nightmare. Pat dropped me off so I could explore while he drove away and came back to pick me up.

For the Dublin Day 1 tour, Michael Fox: Hotel pickup and he was in the lobby on time, waiting with a smile.
Car is a comfortable, upscale sedan, which made travel a pleasure. Created an itinerary for things I was interested in seeing. Michael lives and grew up in the area, and had deep knowledge about the sites.
Michael was prompt, courteous, and professional, offering insights and relevant stories to make the day special. I learned about a lot of various topics including meditation labyrinths and tidbits on potato farming.

For the Dublin Day 2 tour, Kevin D. is a retired taxi driver but keeps his license up to date so he can drive in the bus lanes and bypass ordinary traffic. The cab has very spacious seating, which is a plus.
After chatting with him, he suggested Monasterboice high crosses, which was an amazing site. He's follows American politics, more so than me, but still, it led to some lively conversations. lol.
Overall, Ireland has some interesting sites. There is more to see on the other side of the country, like dolmens, but things are spread out too much to cover everything in a couple days.
Thanks for reading to the end of the page. I hope you enjoyed the information here. If you have any questions, comments, or suggestions – hit me up in the comment section below, or send a message via contact us.